Buying Property in Austria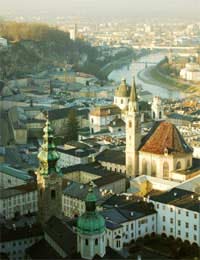 Austria is a beautiful country and one that is becoming increasingly popular with the British visitor. This is resulting in more British people investing in Austrian property, either as a full time residence or as a second home.
There are many reasons why British people are looking at Austria as a place to relocate or to buy a second property. These include:
Property Buying Process
The process of buying a property in Austria is relatively straightforward. Since Austria became a member of the EU, it has had to change its laws governing the ownership of property by foreigners and this has made the process much simpler.
The process of buying a property is similar to other countries in Europe and a 10 percent deposit is required to secure a property prior to purchase. It is essential to get good professional advice, however, when buying a property in Austria as language difficulties plus the difference in buying procedure can be problematic for the unwary.
Low Cost Airlines to Austria
The advent of low cost airlines has meant that places such as Austria have become much more accessible than they once were. With budget lines offering bargain airfares, more people than ever have been able to explore and discover the delights of the Austrian countryside.
This is also making investing in property more attractive as people can make the UK to Austria trip without breaking the bank. Low cost airlines also tend to fly to more out-of-the-way airports and this has opened up a whole new range of property buying opportunities. Before buying a property that is near an airport that is serviced by a low cost airline it is important to make a back up plan in case that route gets canceled. Low cost airlines will cancel unprofitable routes so there is no guarantee that a specific route will continue to run in the future. This might make a property very difficult to access in the future.
Skiing in Austria
One of the key reasons why people look to buy property in Austria is because of the skiing. Austria boasts some fine ski resorts with resorts to suit people of all skiing abilities. The ski resorts range from traditional villages full or wooden chalets through to purpose built resorts.
The type of ski resort will depend on what the investor is looking for. Someone who is looking to buy a property in Switzerland and rent it out to generate income, will need to look for a resort that is easy to access and a property that will be attractive to short term visitors. There are many 'ski in ski out' properties and these are very attractive to skiers. Purpose built skiing accommodation can often be good value. It should be noted that some areas demand that property sold for rental must be advertised through local letting agencies. This means that the property owner has no control over the people who are staying in the property.
Austria will continue to grow as a destination for the British property buyer and continues to offer a great choice for people of all budgets.
You might also like...