Buying Property on the North Eastern Seaboard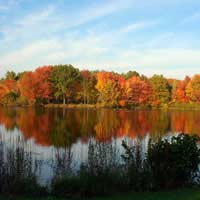 The northeastern Atlantic seaboard of North America is enjoying an increase in attention from property buyers from northern Europe, and the United Kingdom in particular. This area is covered by the US states of Connecticut, Rhode Island, Massachusetts, New Hampshire and Maine, and in Canada, the provinces of New Brunswick, Nova Scotia and the south eastern corner of Quebec.
Region Overview
The cities of Boston, Maine, Quebec and Montreal provide cultural attractions and the coastal resorts, of Maine in particular, provide beaches for relaxing and rivers and sounds with perfect harbours for sailing and other more active water-sports. Further inland, mountainous pine covered regions are dotted with lakes and national parks which offer country-based holidays in the summer and skiing in the winter.
Although in the height of summer there is good weather, unlike other popular North American property buying regions such as Florida and Southern California (and also unlike the United Kingdom) there is a wide variety in the seasons to enjoy, which keeps prices lower as well as providing alternative holiday attractions.
The classic "New England in the Fall" is one of those attractions, although it's not just New England (a collective name for the US States of the region) that offers this beautiful array of red's, golden browns and greens, as autumn descends and the trees change colour. Most of the region inland from the coast all the way from New York City to Nova Scotia revels in the outbreak of colour, attributed to the different varieties of trees on the American continent, compared to the United Kingdom.
Economic Drivers
Of course one of the key reasons for the popularity of this region is economic. The decline of the US dollar against sterling and the sub-prime mortgage crisis has made property in the USA very competitive for British people, although the property crisis means that you must be certain that you want a property for the long-term before investing.
Even in New York State, the rural regions over two hours drive north of Manhattan, and therefore too long to commute daily, offer land in beautiful countryside with houses ripe for renovation for as little as £15,000.
Variety of Prices
Seaside properties will not be so cheap, particularly in the coastal towns of Massachusetts and Maine where much of city society decamps for the summer. Iconic resorts such as Martha's Vineyard, Cape Cod and Nantucket will be very expensive, but the location may help the properties retain their value and attraction when it's time to sell on. Just as an example though, a new Cape Cod oceanfront four-bedroom house is for sale at nearly five million dollars.
Further north in Canada though, the rockier coastlines of New Brunswick and Nova Scotia offer parcels of wooded land close to the shore for as little as C$10,000, although you should make sure that permission to build is likely to be granted before buying. This could make a perfect base for woodland walks, cycling, canoeing and fishing in a quiet rural setting away from the crowds.
Inland many of the ski resorts are now gearing up to provide year-round attractions, with golf courses springing up among the lakes to join the hiking trails, cycling paths and other amenities for wilderness-based activities, to keep people busy until the snow comes round again. Very well appointed three bedroom, two bathroom properties in the Quebec ski resort of Mont Tremblant, on the shores of Lake Fiddler, will cost from around £150,000.
Getting There
Another attraction of the area is cheap flights, with London to New York being one of the most competed for airline routes on the planet. And if hiring a car at JFK airport and driving through Brooklyn and Manhattan on your way to your holiday home doesn't sound like fun, there are express busses to the main rail stations in Manhattan, Trains can then take you out of the city and into the countryside, where you can collect a car and drive off in slightly less stressful surroundings.
Of course, there are now flights to and from other locations, with UK airports such as Birmingham, Manchester, Belfast and Glasgow having flights to North American cities such as Boston, Halifax and Montreal.
Well Establish Buying Procedures
To find out how the buying processes differ from ours in detail, take a look at our article on buying property in Florida for the USA or our article on Canada. In both cases although there are differences, the processes are well established with both the seller and buyer well protected by law, unlike many developing overseas property markets. And of course, English being the main language, albeit alongside French in much of Canada, makes the process much more comfortable.
You might also like...
The idea of property in New England in eastern Canada can seem appealing, especially rural property. It's well worth mentioning that you should never by any property without first inspecting it and also making sure there's a legal right of way, or easement, to the place. Buying anywhere in a city like Boston, or in some of the popular towns in Vermont and New Hampshire can be expensive, and in the country winters can be brutal.
David
- 18-Sep-12 @ 3:30 PM
Montreal is somewhere we've wanted to move to for a while no but the current ecomomic climate has made us think twice. Ideally we'd like to buy a property there but at the moment we're considering renting until the market picks up a bit. Need to do some more research into how the property market is doing in montreal right now but would welcome any advice anyone has to offer...
looking to buy
- 18-May-12 @ 4:35 PM