Buying a Property in Slovakia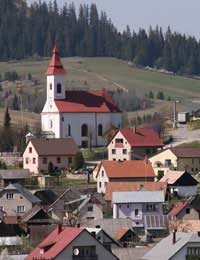 Slovakia also known as the Slovak Republic, is the eastern part of what was once Czechoslovakia and, just like many of the former Eastern Bloc countries, is experiencing an economic upturn as it reconnects with mainstream Europe. The Czech Republic is ahead in this process and this means that Slovakia has bargains that are no longer available in the western half of the former country.
All About Slovakia
Being land-locked and with a considerable proportion of its area given over to mountains, Slovakia enjoys distinct seasons with the summers warmer, and the winters colder, than the UK. Without a coastline the tourist industry focuses on skiing in the winter and activity holidays such as golf, horse riding, cycling and walking in the summer. City breaks and spa town visits are also popular and there is much stunning architecture, from medieval castles to the magnificent buildings of the Austro-Hungarian Empire.
Economic Overview
As part of the process of joining the EU, which was achieved in 2004, changing the economy to be more market led has resulted in an increase in foreign investment and privatisations. This has delivered economic growth and brought inflation down and Slovakia plans to adopt the euro in 2009.
The international property market, with the exception of some lifestyle property buying in rural areas, is generally focussed on buy-to-let in the larger cities such as Bratislava, Kosice and Banska Bystrica, and ski apartments in the resorts in the High Tatras, the mountains that Slovakia shares with Poland. When Slovakia joined the EU the restrictions on foreign nationals owning property were relaxed, previously they had to set up shell companies to get round the restrictions.
Buy-to-Let in Bratislava
Bratislava's apartment market delivered capital gains of around 15-20% in 2003 and 2004. It has slowed down since then although there is still room for growth in the market, but location is now more important. It is probably worth avoiding Communist-era blocks completely, but good pre-war and new-build properties are predicted to offer 10-15% growth over the next three to five years, as Bratislava catches up with other European capitals.
New-builds are particularly popular with newly affluent locals keen to embrace high quality accommodation after decades of living in communist-built concrete apartment blocks. And with a new motorway opening to link Bratislava with Vienna in around 40 minutes, many Viennese workers buy or rent in Bratislava as it is far cheaper. Make sure that a new-build is priced to include full finishing, including the kitchen, as traditionally they do not. Apartments start from around £50,000.
Ski Resorts Offer Year Round Potential
In the ski resort market the High Tatras, chalets and restoration projects are available as well as the ubiquitous new-build apartments. As this is the only really alpine range in Eastern Europe, large numbers of Hungarians, Poles, Czechs and Slovaks holiday here. The British market is small but picking up as cheap flights now service the town of Poprad from Stansted. Make sure your property is close to the ski runs though, no more than a couple of hundred metres, for successful renting.
With winter catered for by skiing and snowboarding, golf resorts are springing up to extend the letting season into the spring and autumn. Summer sees the activity holidays previously mentioned and there are many national parks and spa resorts to attract tourists.
How to Buy
Appointing an independent lawyer rather than someone chosen by the estate agent is strongly recommended, as is a structural survey, unless it's a new build. Deposits between 10 and 20% are usual and will secure a property, after which completion is usually relatively quick – about three to four weeks. If you pull out after signing the pre-purchase agreement that goes with the deposit, the seller can deduct expenses before returning the balance of the deposit. If they pull out, you get it back in full. As with many other emerging markets, the key items for the lawyer to check are that the seller truly owns the property outright and that there are no debts secured on it.
As there's no stamp duty or property transfer tax in Slovakia, the only extras are the fees for the lawyer (around €500) and land registration fees (about the same). Vat is 19% VAT and is levied on land and buildings that are less than five years old. And although there's no capital gains tax (CGT) as such, the gain is taxed as income at the flat rate of 19%. This rate is also levied on any rental income and there is a tax treaty with the United Kingdom so if you decide to pay in Slovakia, you won't be taxed back home as well.
There's a broad range of property available in Slovakia and the chances are that, whatever type of investment you are making, if you choose the location and property carefully you have every right to expect a significant rise in value over the next few years. Have a look around, do your research and you won't go wrong.
You might also like...