Buying a Houseboat in Amsterdam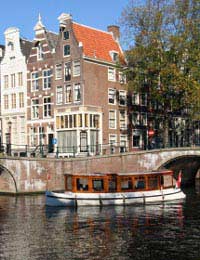 Who hasn't seen the rich array of houseboats gracing the canals of Amsterdam without feeling even the tiniest bit envious of the people living this apparently idyllic life. The combination of the laid back lifestyle and unique living accommodation are a heady combination and make buying a houseboat in Amsterdam many a British person's dream.
While buying a houseboat in Amsterdam may sound a wonderful proposition, before starting on the process there are some important things to consider. These include:
The Buying Process
Before someone even starts the buying process it is important to remember that buying the mooring is different to buying the boat. In effect the process of buying a houseboat is two fold. If a mooring is purchased on its own then there is nowhere to live and correspondingly buying a houseboat without a mooring may result in a boat in dry dock. It is essential to get professional advice as there are many pitfalls that can await an unwary purchaser.
Houseboat Location
The location of any property is essential and a houseboat is no different. One of the key factors of picking a location is whether the houseboat is to be a full time home or whether it is to be used as a holiday home and for holiday rental. A very quiet location might be perfect for a full time home, offering privacy and calm, however this might be boring for people on a short break who want to be in the midst of the city. There are areas of Amsterdam where nearly all of the houseboats are for holiday rental and these can be a good place for a person looking to invest in a second home to start.
Maintenance of a Houseboat
All property needs to be looked after, however good and regular maintenance is essential for a houseboat. This maintenance often requires specialist equipment and knowledge and while Amsterdam has a large number of skilled workers, the cost of maintaining a boat can be significant. It is important to budget for the regular maintenance of the houseboat, plus any unforeseeable repairs to avoid these arriving and giving a nasty shock in the future.
Insurance and Mortgages
Getting insurance on a houseboat will be more difficult and less straightforward than insuring a house. The insurance company will want to know about the build of the boat and, in particular, what the hull is made from. This will also include the thickness of the hull. Most mortgage companies will require insurance as part of the agreement, therefore investigating insurance is an essential part of the buying process.
Rules Governing Houseboats in Amsterdam
The houseboats of Amsterdam are seen as being an important feature and part of the character of the city. As such there are strict rules that state what a boat owner can and cannot do. This includes the decoration of boats, how maintenance is carried out, height permitted above water and much more. These rules are changed on a regular basis and up to date information should be sought at the time of buying a houseboat.
Buying a houseboat in Amsterdam is not for the fainthearted, however for someone willing to face the challenges it could be an opportunity to 'live the dream'.
You might also like...