Buying a Property in Poland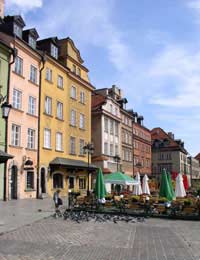 Poland is another new boy on the international property block and at the moment, a spectacularly successful one. A Royal Institute of Chartered Surveyors report early in 2007 showed 33% house price inflation in 2006 on top of 28% in 2005. The capital, Warsaw, recorded a price jump of a third but Krakow, Poland's second city, posted even higher gains in 2006.
Climate
As it is closer to northern Russia than many of the other central and eastern European emerging markets, Poland is a lot colder, particularly in the winter, although it is milder on the north-western areas close to the Baltic coast. Although Poland has resorts on the Baltic coast, and ski resorts, investment money is firmly geared toward buy-to-let in the major cities. As foreign investment pours into the country, aided by Poland's entry into the EU in 2004, demand for rented accommodation is high and rental yields are being quoted at between eight to ten per cent.
Warsaw Sees More Action
Warsaw is one the biggest hot spots, with the number of people moving there to work set to double in the next fifteen years. However, against this the investor must bear in mind the exodus out of the country by many young potential tenants, seeking better work prospects elsewhere in the EU. The building boom may also overheat the housing market. All this does not mean one shouldn't invest there, as its early days and there's a real opportunity to get into the middle and tail of the price rises at a lower risk. What it does mean is that location and quality have to be considered very carefully, to ensure maximum yield and capital growth.
Other City Options
Krakow's capital gains exceeded Warsaw's in 2006 and this is down to its value as an educational centre and a popular city break destination, causing demand for tourist and student accommodation. Although this affects prices, rental yields are potentially not as sustainable as in Warsaw.
The choice boils down to your reasons for investing; if you're after maximum gain both ways then it's Warsaw, if you are after a nice place to go and recharge your batteries every now and then, which will cover its costs and still make some good gains into the bargain, pick Krakow. For the gambler, we offer the so-called TriCity (Trojmiasto) area on the Baltic Coast, the industrial ports an spa towns of Sopot, Gdansk and Gdynia, where capital gains were 28% last year but entry prices are a lot lower.
Building Standards
Wherever you are buying, be careful about the standard of accommodation. Many of the Soviet-era apartment blocks are low quality and restorations are likely to be cosmetic, and some new-builds are not up to scratch either. This may cause difficulties as Poles are becoming more used to a higher standard of accommodation and the levels of home ownership are rising, up from 48% to 55% between 1998 and 2003. It's important not to be stuck with a property that is hard to rent and hard to sell.
The Purchasing Process
Deposits are traditionally high in Poland, up to 20% on signing an initial contract. The very necessary independent English speaking lawyer that you have found will make checks on titles and local information and then the deal is completed at a final meeting with a notary and both parties. The notary will complete the property registration but it's currently taking up to six months to get the papers back.
Extras include 2% property transfer tax, 2-3% notary fees, 1% legal fees, 2% registration court fees, and about 5% estate agent fees, although the latter are usually paid by the seller, as in the UK. When you come to sell, capital gains tax is levied at ten per cent, but it's worth knowing that it's waived if the property is kept for over five years.
Go For It!
Poland is probably one for the serious investor rather than the lifestyle buyer. A Channel 4 commissioned survey by a team of accountants placed Poland second only to Romania in projected capital gains over the next ten years. But over-supply could be come an issue, so the right location and a high standard are tipped as the best ways to achieve those meteoric gains.
You might also like...