Buying a Property in Turkey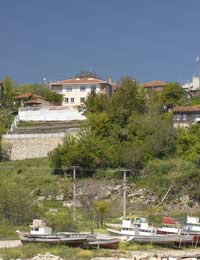 Turkey began to emerge as a holiday destination over the last decade or two and inevitably property purchasers followed, taking serious interest over the last five years. And it's not really surprising; Turkey is one of the few places left where a property on the glittering Mediterranean coast is still affordable. The Turkish coast has a multitude of peninsulas and islets along with many hundreds of small islands, some of which lie cheek-by-jowl with Greek islands but with that all important difference: the property is significantly cheaper.
Less Risky These Days
With emerging markets, the professional investors, who can afford to take a risk, get in first. When ordinary people who would like to spend the equity stored in their UK house on a little place in the sun, then it's a sign that the market is getting less risky, not necessarily that all the profit has been taken out of it. And Turkey shows those signs.
Signs of Stability
Turkey has been a NATO member for many years, and is negotiating hard to enter the EU, although issues surrounding the dispute with Greece over Cyprus are slowing that down and it is not considered likely that Turkey will join until around 2018 at the earliest. Economic stability and growth, with increased foreign investment, has been seen since the introduction of the new Lira in 2005. Recent law changes allow foreigners to buy up to 2.5 hectares, except in remote rural areas which aren't controlled by a town or borough council, and with the bulk of the housing supply quite old, new builds are popping up everywhere.
There are reputable builders and developers, some UK-based, building marina and coastal complexes, and land registration issues, while not all completely sorted out, are much improved. Newer properties must comply with the earthquake-proofing laws passed in 1999.
Most Are on the Coast
Turkey is a huge country and there are foreigners buying property inland, looking perhaps for a stone property to restore or renovate, but this is only a small proportion of the market. There are also ski apartments from as little as £20,000 in the Koroglu Mountains, although the skiing season is slightly shorter that the Alpine one. But far and away the most popular place to buy is the Mediterranean coast, in fact all along it, with more focus on the areas close to the airports. Take a look in the Sunday newspapers or browse the Internet to find the locations and prices.
Pitfalls to Avoid
Buying is a straightforward process but there are some warnings. Working with a reputable and registered estate agent is vital. There were instances in the early days of off-plan properties being sold to more than one buyer, so engaging a Turkish bi-lingual lawyer is advised, although they are not required by law. Finally, you will have to open a bank account in Turkey as any transaction of more than 8000 YTL (new Turkish Lira, about £3000) must go through the banking system or the Post Office.
How to Buy
The process is in three stages, the first is a reservation contract. With a deposit, usually around £2000, the property will be taken off the market for 30 days while your lawyer makes all the necessary checks and moves to the preliminary contract stage. This contract is legally binding and will require a deposit of between 10 to 30% and once signed, the government will make checks to ensure that the property is in areas where you are allowed to buy, and you will need to make visits to the government offices to prove your identity and show them the deeds.
You should ensure that your lawyer now investigates the area around the property as well as the property itself to ensure there are no nasty surprises in the offing. Assuming all is well, you will pay the remaining amount and the property will be registered, making it yours. There is a slight problem at the moment in that the government checks referred to above (which cost £500) were put on hold for six months in 2005, meaning there is still a backlog and delay at the moment. There are rumours that these checks will soon be removed though.
What About the Extras?
Ten to eleven per cent of the purchase prices should cover the extra costs of the process. Estate agents' fees are around 3%, lawyers' fees about five per cent, and stamp duty is 1.5%. There's also a transfer tax of 1.5% but this only applies if you are buying a property from another person, not a new build. You should also allow for notary fees, contract translation charges, and land registration charges. There is capital gains tax on property in Turkey, but it is waived if you keep it for at least five years, and you will be liable for income tax on property if you rent it out.
Hospitality in the Sun
One thing that many people who have already taken the plunge agree on is that they now have many more friends than they did before. Along with a beautiful climate, great food and laid-back way of life, the people are among the friendliest and most hospitable in the world.
You might also like...