Buying Property in France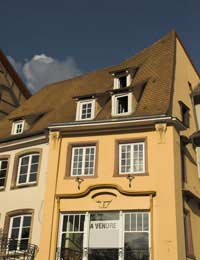 France has been one of the success stories for English property hunters for over three decades. Fuelled by the success of books such as "A Year in Provence" by Peter Mayle, and TV shows like 'A Place in the Sun', demand for property in France has soared.
Accessibility
Cheap flights and the opening of the Channel Tunnel contributed to the boom. The Channel Tunnel opened up the possibility for London commuters to buy houses in Normandy villages at a fraction of the price of English homes, with a weekly or even daily rail commute not much worse than many colleagues.
Brittany was already popular with British buyers because of the range of ferries available, but the cheap flight revolution fuelled the demand for houses further afield. It made it easier to buy a property and visit it for a number of long weekends each year, not just for one holiday in the summer, and renovation projects became more viable. But beware of buying in an area purely because of cheap flights from one airline, make sure there are other options in case the company decides to pull out, or fares rise dramatically.
Pick Your Area
France is a large country with a variety of climates but most are significantly better than the UK. To the north it is similar to the south of England but warmer with less rain. The Mediterranean coast is generally warmer than the west coast, but more expensive and more crowded. Inland areas are cooler, particularly if you go high up, toward the Massif Centrale or the Alpine regions. In these areas you will get more extremes of weather than the UK, with a good summer but also a cold winter.
Lifestyle
France is attractive because of the more relaxed pace of life, better and cheaper food and wine, and weather. It is generally agreed that the more you put into integrating with French people and assuming their ways, particularly the language, then the more you will get out of it.
If you are intending to live in France full time, or perhaps for the summer, then this is more important than if you are going to use your property as a holiday home and rent it out to other holidaymakers for most of the year.
The Buying Process
France is generally considered a 'safe' place to buy, there is less corruption and a well laid-out system to follow compared with some emerging property markets, but care is advisable as with any purchase. The sale is handled by a French legal authority known as a notaire, who is independent and works for both the vendor and the buyer, but it is advisable to employ a French lawyer who is able to translate the legal documents and advise you accordingly.
One of the key differences is that the compromis, the initial contract that you and the vendor will sign after your offer is accepted, is a legally binding document once the seven day cooling off period has expired. After that, the sale must then go through and the price cannot change, unless a serious problem is discovered. This puts paid to gazumping, much to the delight of English and Welsh buyers.
A deposit of ten per cent is paid at this stage and then all the searches, legal checks and reports, and finance arrangements are put in place. Assuming no problems arise, the final signing can be as soon as six weeks later, usually at the notaire's office, with the vendors present too. This will probably be in French so it would be wise to ensure your legal representative is available on the phone, if not in person, on the day. If you are unable to attend, you can use a power of attorney to enable a representative to sign for you.
Costs
As well as the cost of the property, the notaire's fees will generally be about ten to twelve per cent of the purchase price, and there will be tax of between seven to ten per cent (unless the property is less than five years old, in which case it will be two to three per cent. There may also be an agent's fee, depending on how you found the property.
Note too that it is a criminal offence in France not to have a property fully covered by an insurance policy and this becomes your responsibility at completion. There are two council taxes, local and regional, and arrangements will have to be made to cover those when you are not around.
Current Trends
One of the most popular areas is the Dordogne, which began to attract UK property buyers over forty years ago, but stories of prices reaching a standstill or even falling have been doing the rounds for the last few years.
Alpine properties are now considered a strong investment for buy-to-let, as the ski season lasts for four to five months, then there is a six-week summer season too. Only apartments in cities popular for mini-breaks are likely to get a better occupancy rate from a holiday let.
The remote rural areas up to two hours driving time from Limoges have started to go up in price in the last three to four years as Ryanair flights are now well established from Stansted Airport. The Aveyron is also tipped for price increases now that Norman Foster's autoroute bridge has been completed, connecting the area to airports in the south.
La Belle France
Although prices have gone up in the last thirty to forty years many regions of France still present excellent value for money compared to the UK. Many hundreds of thousands of UK buyers have become proud owners of French homes.
You might also like...