Buying Property in a Ski Resort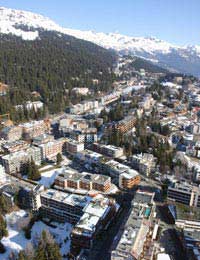 Ski resorts have been a source of holiday homes for some time now but have recently got more attention as the resorts focus on extended summer amenities as well as making them an attractive proposition for year-round rental.
Active Summer Holidays
It used to be the case that ski resorts effectively closed down when there was no snow, but the growth of active tourism, with couples and families alike enjoying mountain biking, walking, canoeing, horse-riding and a host of other outdoor pursuits, has given these areas a life outside skiing. The ski landscape, with mountains, rivers, valleys, forests and, best of all, clean sharp air, lends itself to all of these pastimes and more.
This enables resorts to offer a summer season sometimes, as in the Alps, little more than six weeks long, but in many other areas it can run nearly all of the year. As an investment vehicle, this makes a ski apartment more attractive than a coastal resort, as in many seaside areas, the summer season will be three to four months, and there's no winter option at all. A ski season can be as long as six months and any summer season is just icing on the cake. Spring in alpine areas can attract white water rafters and canoeists as the winter snows stream down the mountainsides, and autumns attract people looking for peaceful cool walking and horse riding...
Golf Takes it Further
But a new trend is stretching that season outside the winter months – golf resorts. Golf can be played in most non-wintry weather and the only challenge in an alpine area is finding somewhere flat enough to lay a course. In many of the emerging markets for ski apartments and chalets, Bansko in Bulgaria for example, the developers are leap-frogging the winter-only stage and going straight for the year-round model, by building championship standard golf resorts a couple of miles away from the ski areas.
What to Watch For
The dangers to an investment in a ski resort come from over supply and climate change. Many of the emerging foreign property markets in central and Eastern Europe have alpine areas which already have ski resorts. Although the quality of the existing accommodation is often sub-standard, entrepreneurs can see what happened in the established Alps, and what is happening now in fast developing areas like Bulgaria and Slovakia, and they are being quick to refurbish or build new properties of an appropriate standard to attract foreign investors. These new areas can also learn from the mistakes of the Seventies and Eighties and build more attractive lower density properties, and with lower prices, they may have a detrimental effect on the capital growth of property you purchase.
The climate change problem is one that no investor can do a great deal about, and that's the absence of snow, a problem that hit the lower French resorts for the first time in 2006. Snow did not arrived until shortly before Christmas, a good three to six weeks before usual. No one can tell if this is a trend that will continue, but it makes sense to buy in an area that's high enough to ensure good snowfall.
Check it Out
Infrastructure and the presence of recognised holiday firms are good signs. If you can't find a tour operator attracting people to your chosen area then it's not likely that many other tourists will. Look for good quality ski lifts, a variety of well-signed runs within easy reach and make sure the property you buy has easy access to the ski areas. In town, look for good quality, well-stocked shops, quality restaurants and vibrant nightlife for the all-important après-ski attractions.
Low Entry Prices
One benefit of ski resorts from an investment point of view is that the price of entry is often lower than a coastal property in the same country. Even in France it is still possible to get studios and one-bed apartments for under £60,000 in resorts with traditionally good snow coverage. Prices in the Bansko area of Bulgaria, attracting a lot of attention at the moment, will start at half that, and Pamporovo, another Bulgarian resort area that's catching Bansko fast, is cheaper still.
Canada and the USA offer excellent facilities although the prices will be higher. Popular ski-in ski-out apartments in British Columbia start at £110,000 and the higher end properties will have hot tubs on the balconies! In the USA, ski resorts in states like Vermont or Pennsylvania have apartments at similar prices. Colorado is a lot more expensive, with some ski-in ski-out condominiums in prime locations starting at $700,000. Timeshares are still popular in the USA though, offering a cheaper way to access a property but no opportunity to benefit from rental income.
Guaranteed Rental Schemes
One final aspect of ski resorts is that they often offer leaseback schemes. After purchasing your property, you sign over the leasing rights to a management company who will rent it out for you. You get guaranteed rental returns, at a lower return than if you rented the property out yourself, but the management company takes the risk of having void periods and doing all the marketing to get the tourists in, let alone the day-to-day management such as changing linen etc. This is popular in France and Canada, and in France signing up to a leaseback scheme means that the VAT is refunded to you.
Unlock the Value
With the popularity of snowboarding and golfing extending their demographic reach and the rental seasons respectively, ski resorts represent easy entry to the international property market and a very good chance of getting a decent return. Good research and independent advice will be the keys to unlocking a valuable investment that you can enjoy too.
You might also like...