First-Time Buyers: Saving Money By Looking Abroad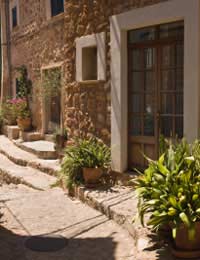 Although there's talk of a softening in the UK housing market, prices have risen so far in the last ten years that it's unlikely to make a great deal of difference to the ability of first time buyers to get on the housing ladder. Not unless there's a real crash, which may of course still happen.
What's Happening in the United Kingdom?
In August 2007 a survey by the Council of Mortgage Lenders showed that first-time buyers were being offered up to 3.9 as a multiple of their income in order to make a purchase. This is a very risky level and it's beginning to cause problems. People who are coming off their one or two year low-start periods are being unable to find similar deals to replace them and sometimes having to accept monthly repayment rises of up to 50%
The situation is being made worse by the credit crunch. Many banks and building societies, particularly those heavily exposed to the American market, where deregulated financial control led to irresponsible lending and an unsustainable level of bad debt, are now beginning to withdraw the mortgage offers that attract first time buyers, such as 100% mortgages and heavily discounted initial flat rate periods.
Buying Overseas as an Affordable Option
So even if house prices fall a significant amount, it is still going to be hard for first-time buyers to afford to buy, even at the lowest sections of the housing market. For this reason adventurous first-timers are looking to other markets where they may be able to get capital growth.
The concept sounds like a good one as long as you buy into the right market. With a small down payment you can access a good buy-to-let market in a booming foreign market. Assuming growth continues and rental income covers the mortgage payments, then in a few years time a sale will release a healthy capital amount that can be used to put down a deposit on a home in the UK. And there you have it, a sure-fire way to enter the UK housing market.
Words of Warning
Well, not quite. The problem now is that many of the hot overseas markets are cooling too. The holiday home market is suffering as the credit crunch means that fewer people are taking expensive holidays. Spain has some specific problems as the scandal of bribery and corruption of planning officials is unearthed and the thought of having your home in the sun bull-dozed. But France is suffering too and there are stories of a cooling in the Eastern European countries that have delivered such spectacular growth recently.
The city apartment buy-to-let market is suffering because the credit crunch is forcing multinationals to tighten their belts. That means fewer joint ventures and expansion into foreign markets, so fewer well-heeled corporate renters. This then takes the pressure off the market, one that's probably already overheated because of the number of overseas investors who have entered it in the last ten years, and the result is that rental yields drop, possible to a level where they no longer cover the mortgage payments.
A Third Way
That's not to say that the idea of buying abroad is a bad one, it's just essential to pick the right location and do a lot of serious research before committing any money. And there's a third way of looking at the issue. With today's younger workforce more likely to consider living and working abroad than previous generations, it's quite possible that many first-time buyers will go abroad to work and live in their properties.
The cost of living in some places is so much lower than the UK. After all, a recent HSBC study revealed that the UK was the third most expensive country to live in, with only France and Norway in front. In many countries people can enjoy the same lifestyle as in the UK for half the money, although of course the salary is going to be a lot less too. The ideal would be to live in a cheap country but find a job that pays a UK salary.
You might also like...