Buying a Property in Hungary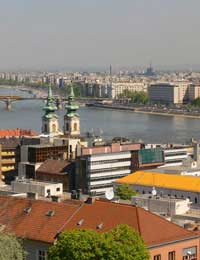 Having no coastline the property investment scene in Hungary is geared mainly toward city buy-to-let apartments. But Hungary does possess Europe's largest lake, Lake Balaton, and there is a thriving tourist industry surrounding the lake, with horse-riding and walking, sailing and thermal spas to attract visitors. No part of Hungary is further than two hours from Budapest, so the tourist areas attract weekenders from the capital as well as overseas visitors.
Solid, Sustainable Growth
The buy-to-let scene is centred on the capital and is being driven by many multinational corporations choosing the city for office and factories, using Budapest as a springboard into the emerging markets of the former Eastern Bloc. Buying off-plan has been very lucrative in the last three to five years, particularly since Hungary joined the EU, and although massive gains are no longer there, there is a more mature market with solid growth and lower risk. The economy is growing at roughly 4.5% per annum and there is a stable democratic system in place, with the infrastructure reckoned to be the best of all the modernising central and eastern European nations.
City Apartments
Property in Budapest is not as cheap as many other Eastern European cities, but growth is quoted variously as between 15 to 20 per cent each year. A two-bed apartment in the right part of the city will set you back around €100,000 but it's the stability you are paying for, with rental yields around 5-7% and solid likelihood of a decent return on your money in terms of capital growth. And the move to replace the Forint with the euro in 1010 will no doubt boost the level of foreign investment even further.
Budapest has been referred to as the 'Paris of Eastern Europe' so the market for tourist apartments is strong, with Budapest featured in many city break programmes and people flocking to the famous thermal spas, where it can be like having a bath in a cathedral! But it's the young professionals that the smart money is after. Rentals per week or month may be lower but the void weeks will be a lot lower too, and this cancels out the higher tourist rates. Short-term investment is popular too, with investors buying off-plan then selling for a profit on completion. As the government is providing subsidies to encourage home ownership, those buyers are just as likely to be Hungarian as not.
Houses in the City
Houses in the city are beginning to become popular as developers react to the demand for lower cost housing for young families, as opposed to the luxury apartments that will attract the ex-pats on expenses. With this market it will be even more important to use a management company to control your property, as the tenants will be less likely to speak English. Rental laws and regulations are well established and balanced between landlord and tenant.
Lake Balaton Area
Out in the countryside, the Lake Balaton area is beginning to take off with Ryanair now flying into the local airport. Fishing, sailing, jet skiing, water skiing and all sorts of other activities are popular in, on and around the lake, with nightlife on the southern shore too. Slightly further away, walking, mountain biking and touring the abundant wineries increase the area's popularity as a holiday resort. Prices here are cheaper than Budapest but more expensive than anywhere else, but still small 'habitable' houses or restoration jobs are available from less than €30,000 and new or restored properties start at double that.
The Buying Procedure
As in most other European countries, a 10% deposit will seal your sale, but then the Hungarian process deviates a little from the norm. The purchaser then requests 'permission to sell' documents from the authorities while your lawyer, who will almost certainly need to speak English, commences the usual searches. Assuming all is satisfactory, both parties sign a purchase agreement which is then sent to the Land Registry to transfer the registration, which can take nearly six months.
This does not hold up completion, however, which goes ahead with the rest of the purchase price being handed over and all the taxes and charges being paid. The property is not officially yours until the paperwork returns from the Land Registry though. Purchase tax varies between 2-10%, depending on the price and nature of the building, so your lawyer should advise you of this before you commit. Other fees are legal, usually 1-1.5%, notary around 1-2%, and estate agent, 3-5%, so allowing 8-10% on top for all the extras should suffice.
Take a Look at Hungary
If you are at all serious about foreign property investment, Hungary should be on your list of destinations because, in Budapest at least, it's long-term money being invested. The lake area is interesting for the lifestyle investor -- in a beautiful area with many amenities you can buy a perfectly usable holiday home for little money, and it should yield a good capital gain over the next decade into the bargain.
You might also like...