Buying a Property in Romania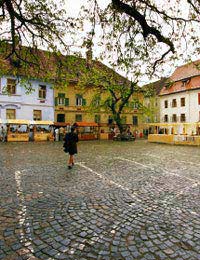 Romania is catching the eye of many property investors at the moment. A recent entrant to the EU, along with Bulgaria in 2007, Romania has the usual two sided property market experienced in an emerging market: a boom in buy-to-let apartments and houses in the cities, and much cheaper rural properties attracting the lifestyle investor.
Romania also has a share of the coastline of the Black Sea, where high quality apartments can be found, and a budding skiing economy focussed on the Carpathian Mountains, where there are a number of resorts at altitudes between 1000 and 1300m.
Modernising Economy
Although Romania is one of the darlings of the international property market, warning signs have been heard over the last year or so. As many Eastern European countries shake of the shackles of Communism, embrace the market economy and join the EU, they experience high percentage growth in property prices, albeit from a low initial level.
Some analysts are warning that the market is beginning to get over-heated, but currently it looks as though the risk is that there will be less massive gains, rather than a risk of losing money. The indications are that a slow down will deter professional investors and attract more casual investors looking for lower risk and happy to accept a lower return for it.
The capital, Bucharest, is attracting most of the buy-to-let activity and was named in a 2006 report, commissioned by Channel Four from a group of chartered surveyors, as the best long-term property investment spot in Europe. Other cities well worth a look are Constanta, a port on the Black Sea; Cluj-Napoca, with two universities supplying a nascent IT industry including offshoots of Nokia and Ericsson; and Ploesti, a gas and oil centre that has attracted a lot of foreign manufacturing companies, including Coca-Cola.
As with so many of the former Eastern Bloc countries, the newly affluent inhabitants are hungry for quality new-build property to replace the dingy concrete blocks of the Communist era.
Bucharest Delivers
Currently, well-located apartments in Bucharest sell from £35,000 for a studio, and rental yields are expected to be around 7 to 10%, with no shortage of takers. Prices rose between 15 and 20% in the city in 2006, depending on location, because of the shortage of quality accommodation, and with some 40,000 units predicted to be built in 2007, the level of demand is likely to taper off, but not disappear completely.
Out of the Cities
Away from the cities, the attraction is the unspoilt countryside, particularly in the frighteningly named, but reassuringly normal, Transylvania region. Here small farms and old properties can be snapped up for those seeking a rural idyll, transported to a land unchanged since the end of the Second World War. A renovation project in the countryside can be yours for as little as £6,000.
In the top ski resort, Poiana Brasov, where the ski runs add up to over ten miles, two bedroomed chalet-style log cabins are selling for €75,000. For the coastal option, the same price will net you a luxury apartment in a new development on the Black Sea coast at Constanta, just 150 metres from the beach.
Purchasing Niggles
In common with Bulgaria, it is still necessary for foreign nationals to start up a Romanian company that can buy your land or property. This, along with the need to ensure that the property's title is clear, and owned by the vendor, means that employing an independent bi-lingual lawyer is a must. Setting up the company takes around a week, will cost about £200, and also obviates any VAT liability. Romania has plans to restructure property laws but they are not expected to be complete until 2009.
The lawyer's fees will cost about 2-20% of the property price, depending on the complexity of the purchase, and agent's fees around 3%. Again in common with other former Eastern Bloc countries, Romania has a flat tax rate, 16%, which is applied to both rental income and capital gains (as well as most other forms of tax).
Guidelines to Follow
Careful research and good independent advice are the keys to not losing your shirt in Romania. Follow these guidelines and you'll end up with an appreciating asset that will pay for itself into the bargain.
You might also like...