Buying a Property in Scandinavia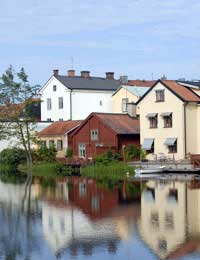 The attractions of Scandinavia are many with fjords, winter sports and active summer holidays on the coasts. The people are friendly and many of them speak English too. Scandinavians, along with Germans, Dutch, Brits and Irish, are in the vanguard when it comes to buying property in hotter countries, but there is growing interest from other nationalities in buying a piece of their clean and largely unspoilt land. A change is as good as a rest for British buyers, so let's take a look at the Scandinavian market.
Not Peas in the Pod
Scandinavia comprises Sweden, Norway, Finland and Denmark and although they are often treated as a group because of their shared Viking ancestry, they are quite different in their political and economic outlook. Denmark, Sweden and Finland have joined the EU, whereas Norway has not, and only Finland has embraced the euro.
Summer and Winter
Although we in the United Kingdom tend to think of Scandinavia as a cold place, and obviously it can be during the long winter, it is also blessed with hot summers, and international tourism is growing popular with families, particularly those who are looking for healthy outdoor activities in the less polluted air of northern Europe. Nearly all summer tourist activity is centred around the coast and islands of the Scandinavian countries although of course, the further north you go, the shorter and colder the summer break is.
Winter holidays play a part in Scandinavia too, with the exception of Denmark, as it is too flat and not cold enough. Although there are Alpine style ski resorts, cross-country holidays are popular too, as the land and snow cover suits this much better than in traditional European ski locations such as the Alps.
Cities Show Profit
City apartments are popular for buy-to-let investors, with Stockholm, the capital of Sweden, experiencing very strong growth, second only to Paris and London over the last few years (although this statistic also included larger-scale investments such as retail centres and commercial property). A recent survey by a well known foreign property television program listed Sweden and Finland in the top ten places to invest, based on a combination of required capital investment, projected rental income and predicted economic forecasts for capital gain.
A review of house price inflation in 2006 recorded 22% in Denmark, 17% in Norway and 11% in Sweden, but foreign investors did not play a great part in these rises. It's not easy to find estate agents who are actively targeting the international property market in holiday resorts. Timeshares are still popular in all of the Scandinavian countries and although since the excesses of the Eighties and Nineties they are now better regulated and far safer, they are no longer popular with buyers form the United Kingdom.
How to Buy
Buying processes differ in all four countries, of course, but in all cases although lawyers do not necessarily have to be involved, as a foreigner it would be advisable, particularly if you don't speak the language. Surveys are a must as the weather is not as kind to houses as hotter climates, but, particularly in the more northern regions, houses are built to a very high standard. Triple glazing is often employed, along with extensive insulation and it's important to make sure this is all in top order.
There are a few restrictions on foreign ownership but they tend to be regional rather than national. Denmark, for example, restricts foreign ownership of summer houses (summerhouse) on the coast.
Emerging Market
As an emerging market, Scandinavia differs from others in that it's not a developing country as well. This means that you can be sure that deals are above board and that there are established and adhered to regulations for buying, registering and owning property. The other side of that coin is that the capital investment required to get a foot on the ladder is much closer to UK prices than it would be in a developing country. It's a case of getting out there and finding out more for yourself, if the clean living of Scandinavia appeals to you.
You might also like...