Buying a Property in Latvia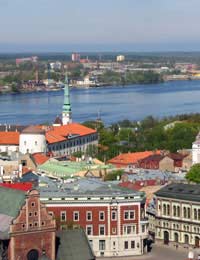 Sandwiched in between Lithuania and Estonia on the coast of the Baltic Sea Lithuania is regarded as the most stable and go-ahead of these three Baltic states. As a new independent nation, Latvians are keen to build a nation to be proud of and will welcome you to their country.
Coastal Attractions
The vast majority of the property action is in the capital, Riga, although holiday properties on the coast are now beginning to attract attention. Latvia is a mostly flat country with pine forest and a multitude of lakes and rivers, making it popular for country-lovers looking for a cheap retreat. But for booming markets, it's back to Riga.
City Market
The buy-to-let market, or 'jet-to-let' as it's beginning to be called, in Riga is fuelled by low property process, although 20% year-on-year rises are predicted for the next ten years. Pent up demand has had a lot to do with the property boom – nationals were given permission to own property in the early Nineties, international investors started getting interested in 2003, and Latvia's entry into the EU in 2004 attracted many more. The Latvian government have done much to stabilise growth and inflation and are planning to join the euro as soon as is possible.
The housing stock is old but in an attractive rather than run-down way and there is a limit to the new housing that can be built, as Riga is relatively unspoilt and the Rigans want to keep it that way. This means that new-builds are likely to be away from Old Riga, but renovations projects, and properties in the process of renovation, are on offer and can yield good profits. There is high demand for unfurnished apartments but as usual, in a boom market, the rental yields are softening, and there is a risk that the market will be over-supplied. On the other hand, the government are promoting house ownership and 100% mortgages are available, so there may be significant capital growth to come and your buyer, when you liquidate your investment, may well be a Latvian rather than another foreign investor.
Buying Process
Buying is simple in Latvia, with a €1000 reservation fee being paid once the verbal offer is accepted, and then the usual 10% deposit securing the property. Then the lawyers get to work, but it's important to realise that you are now legally bound, no cooling-off period exists. It is essential to get a lawyer who speaks good English and you need to expect to pay for translations of documents. Once the usual checks have been carried out, the notary is the key figure, as it is he or she who will arrange the completion, at their office, and will check the papers and register the change of ownership.
The whole process can be over in as little as four weeks, and it's the appointment with the notary that is likely to be the delaying factor.
Estate agent fees are around three to seven percent and it is possible that the buyer, as well as the seller, pays the agent's fees. There is a purchase tax of two per cent and the notary will charge about €250, with land registration fees being €100. This is one of the benefits of buying in Latvia, the incidental expenses are pretty low for Europe.
Popular Location
The popularity of the Baltic States looks set to continue, both as tourist destinations and economic centres, with Latvia and Riga well placed to benefit from the economic growth. A purchase in Latvia now might well prove to be a good investment in ten years time.
You might also like...