Buying Property in Greece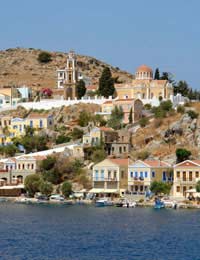 Greece is a firm favourite for British holidaymakers and it's no surprise that it's also a favourite for our property buyers too particularly in the coast and islands of the Peloponnese peninsular, and Crete. With more than 2,500 islands belonging to Greece, there are wide variations in the available property and the nature of the tourist resorts.
Good Weather and Growth
Greece has an enviable climate compared to the United Kingdom, with the islands in particular enjoying sun for most of the year, with mild winters and the waters of the Mediterranean never far away. In the early 1990's, laws restricting foreign property ownership were relaxed and since then there has been sustained growth in property sales and prices.
Crete and Corfu
Many buyers are in the market for holiday homes, normally new or recent apartment or villa complexes, but there is also significant interest in restoring rural properties, particularly in Crete, where ruins in spectacular locations can still be snapped up for as little as £30,000. Crete is now also a popular destination for those buying holiday homes with a view to eventual retirement there, with a low cost of living and friendly people.
Corfu too, away from the intensive resorts, has an excellent stock of stone houses, either restored or sitting, waiting patiently for their starry-eyed buyers. The north-eastern corner of Corfu has so many of the 'right' people spending their summers there that it has been dubbed Kensington-on-Sea.
Buy-to-Let in Athens
For long-term buy-to-let opportunities, Athens is enjoying a boom after the improvements to the city's infrastructure for the Olympic Games in 2004. Coastal properties are not really suitable for year round buy-to-let, as many areas shut down completely out of season, but the strong rentals in the three month summer can more than cover the annual costs of running a property. You will need a licence from the Greek tourist board (EOT) in order to let your property though.
Regulations Encourage Long-Term Involvement
Strict building laws stop new buildings that are higher than three storeys and closer than 90m to the sea, so the visions of high-rise hotels crowding the seashore will never happen in Greece. The hike in the VAT rate on new buildings, to 19%, makes mass apartment developments less lucrative, and a sliding scale of capital gains tax relief (reducing to zero after 25 years) discourages short-term profit taking. This financial regime introduced by the Greeks encourages long-term buyers, who are more likely to be investing in the area for what it is, rather than those who are out for a short-term profit.
For properties that aren't new, it is wise to allow about 15% on top of the purchase price to cover taxes and fees, which would include the property transfer tax of between 7 and 11 per cent. There are also wealth taxes of 1 to 2 per cent on more expensive properties.
Buying Process
The buying process is quite straightforward but there are some warnings against unscrupulous practices. Make sure any estate agent you are dealing with has more than a PO Box and a mobile telephone, and is licensed. Properties that have more than three owners are also to be given a wide berth, as arguments within families can often block sales for years.
The initial contract process is not as cut and dried as in some countries. Although both parties sign the contract and a 10% deposit is handed over, it is not wholly legally binding and you can find that your deposit is returned, meaning you have to start again, although this is not particularly common.
Protection Too
But there is also protection, as all property transactions must happen in the presence of a public notary, who will not allow a purchase to proceed if the papers do not pass muster. It is critical to employ an English-speaking lawyer who knows the Greek system, if possible one who comes recommended by another British buyer. It is particularly important, if you are buying land to build on, that it is approved for building on by the forestry department and the archaeological department. Again, your lawyer will help you establish this.
Greece is now in the top ten buying destinations for Brits abroad and Crete is particularly popular, with 80% of foreign buyers being British, and the regulatory environment attracts people who love the country rather than those who seek to turn it into a Torremolinos clone. The land is steeped in culture and with cheap living costs, glorious weather, great food and a relaxed Mediterranean way of life, there are few better options.
You might also like...