Restoration Projects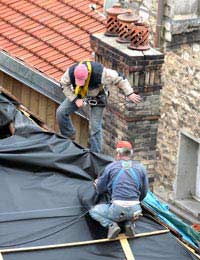 Many overseas property purchases are restoration projects or at least, turn into them once you've looked under the decoration! In many overseas countries, where space to build houses is not as expensive as it is in the United Kingdom, people tend to allow old house to go to rack and ruin, while they simply build a new one next door. This results in lots of properties that have no perceived value to the owner, but represent a bargain project to the dewy-eyed foreign DIY expert who is visiting on holiday.
What's the Real Picture?
There's no doubt that a restoration project can be immensely satisfying, very rewarding, and a lot of fun too. But it can also become a drain on your finances and a millstone around your neck if you bite off more than you can chew. And those owners, who think that all foreigners are mad, are pretty quick to realise that their lopsided barn in the middle of nowhere represents a "des res" that's worth a pot of gold if they can find the right buyer.
Research, Research, Research
Hard-headed research, with the rose-tinted spectacles firmly back in their case, before you commit yourself, is the only way to make sure your restoration project runs successfully. First of all, you need to decide why you are taking the project on, because that will affect your choice of wreck and the amount of money that you are prepared to throw at it.
DIY
If you are going to do some or all of the work yourself, ask yourself if you really do have the skills, and can you spend the time doing it? Many projects have ended up stalling when the owner suddenly realises they are sick of spending every single holiday and spare weekend for five years doing DIY, and so are the rest of the family.
Investment
If the project is a scheme to make money, by buying a cheap property and making it into a saleable one with a profit at the end, then the research needs to be just as much about the marketability of the final product than about the ruin itself. Then get estimates from different craftsmen for the work that needs doing and factor them into your costings before buying the property.
Home Abroad
Costings are also important if you the project is to provide a home for yourself. But as the resale value is of less importance, you can pay what you are prepared to, in order to get the end result you want, without worrying if you will make money at the end.
And if it is to be your permanent home, consider using local people to do the work, as importing people from home may cause dissent in what will be your neighbourhood. Ask around for recommendations, your neighbours are unlikely to recommend a cowboy if they are going to have to live alongside you.
Planning Permission
In both cases though, an absolute must is to check that planning permission for any alterations will be achievable, and to find out if the house has a listed status, or if the area is subject to any restrictions, perhaps being in a national park or other protected area. For example, if you are intending to rent the property out when you aren't using it, a swimming pool will enable you to charge higher rents, but will you be able to install it?
Cost Spiral
In terms of cost, one rule of thumb is that a restoration project will cost at least as much as the initial price of the property. Another rule of thumb is to count up everything you think you will need to pay for, and double it! But the truth is that the amount of work, the condition of the original property, and the level of finish that you want to achieve will all affect the final price.
The only way to make sure that you stay on top of costs is to get three estimates for every piece of work and build those into a budget. Then if possible negotiate fixed price contacts with your chosen suppliers, with deadlines built in, and monitor the expenditure against the budget regularly. Find out when your suppliers will want paying for each section of work, so that you can plan ahead with making money available, this will help cut down on foreign exchange charges.
Keep in Touch
This is all a lot easier if you are onsite, and often foreign buyers simply can't be, but the Internet has made it a lot easier to keep in touch. Builders who have worked for foreign owners are much more likely to have digital cameras these days and will email reports and photos so that you can see what's happening. It is worth considering hiring a project manager to take overall control. This does cost more, but it might be cheaper in the long run, and enhance your chances of the project ending up being what you expected.
Go For It!
For many people, a restoration project is the only way of realising their dream of owning a home in the country of their choice. Once you've found that pile of stone in a fabulous location, do your homework, and go for it!
You might also like...