Living in the Countryside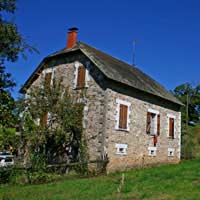 The pastoral ideal is at the back of many people's minds when considering a property abroad. Maybe a small farmhouse with a barn or two and some land just enough to grow your own fruit and veg and have some poultry scratching about in the yard? Or perhaps it's a village house with traditional local shops, and the opportunity to pass days sipping coffee in the café in the square, catching up with local gossip?
Reality Check
Is it all achievable? Of course it is, but finding and buying the property is just the start of that journey. A lot of the work depends on whether the intention is too live in the out there permanently or simply use the property as a holiday home for you, your family, and perhaps other holiday makers.
Living There Permanently
If this is to be a permanent home the work starts even before the search for property. Sit down and quietly consider what it is like to be living in the countryside day in day out, season after season. It is often cold and wet in places that have blue skies all summer long, in fact many people don't really appreciate how unique the British climate is until they experience a year abroad.
Weather Report
Tropical climates usually have a rainy season and are often subject to hurricanes and tornados. Further away from the equator, many popular destinations for Brits abroad, such as France, Greece and Spain have distinct seasons and winter can be harsh, especially on higher land away from the coast.
Conversely this can be refreshing, as at least you know what weather to expect at each point through the year, rather than readying yourself to cope with four seasons in one day, as in the UK. But make sure that the property you have your heart set on has decent heating, or that it can be added, as many summer-only homes can be very uncomfortable in the winter.
Ghost Town Syndrome
it's not just the weather that changes as the year progresses. In some areas the population, swollen in summer by tourists and holiday home owners, will dwindle dramatically once the summer season ends. This means that many hotels, restaurants and leisure facilities will close and cultural events will be thin on the ground. Peter Mayle, in his book, 'A Year in Provence', wondered why there were so many locals with birthdays in September and October until he experienced his first fierce winter in the Provencal foothills.
The Key to Success
Integration with the local people habits and customs is the key to enjoying a happy life in the countryside. Unless you've moved to an English-speaking country, learning the language is a must, and although many people assume they will pick it up by speaking to locals, the reality is that you must put time aside and study properly, just like school. Be forthcoming in going out to meet people and make friends in the area, it's not their job to come to you, it has to be a two-way street.
Holiday Home
If the home is only to be used during the summer months, then you have fewer problems making sure that the property is hardy enough for all seasons, and people will not expect you to integrate as well as someone who has emigrated, but there are other issues. Obviously the smallholder option is out as well, as you won't be there frequently enough to look after plant and animals.
Transport Links
You may need to consider whether to have a car in your remote location, as public transport is unlikely to be frequent enough, and if the car is to stay there permanently, then it will need to be registered in that country. It could also be harder to find someone who is prepared to act as a keyholder for visitors who arrive without you, although locals may help out in return for thoughtful gifts. If you are going to be renting the property out to tourists, it may be harder still to find someone who will clean the property and change the linen when guests change over.
If the property needs to work for you financially, i.e. be rented out as much as possible, then a rural location may mean that rental will be lower than a busier area with more things to do. Consider also the distance to the nearest airport as people, particularly with young families, may be reluctant to face a long drive after a flight.
Do Your Homework!
The main thing, however, is to prepare. Do your sums, make sure that rural living is what you really want, then reach out with an open mind and that pastoral idyll may well be yours sooner than you think!
You might also like...