Buying Property in a City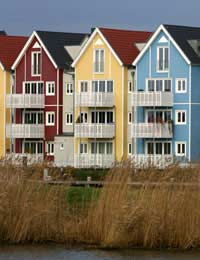 When people generally think about buying property abroad the images that spring to mind are a house not far from the beach, or a remote rambling property with views of rolling countryside. But people who are investing for a real return are more likely to consider a city apartment or house.
Professional Tenants
With a city property, unless you have enough money to leave it empty for much of the year, the sensible thing to do is to let it on a long-term basis to professionals working in the city. This does mean that you are unlikely to be able to use it as a bolthole for yourselves, but you can always use the rental income to subsidise a hotel room.
Holiday Destination?
It is possible, however, to let an apartment on a short-term basis to tourists if the destination has a high rate of visitors in the holiday season, such as Paris or Venice. Renting through a holiday company will mean losing a slice of the rental, but should mean fewer empty periods. This could be the right option if you do want to use the apartment yourself several times a year, as it would be available to you when empty.
Careful Calculation
If the property must pay for itself, this decision needs some arithmetic. The potential rental per week during the holiday period is likely to be higher than for a long-term rent, but you would need to assess the cost of the void weeks out of season, Then calculate whether the higher income on an infrequent basis will add up to more or less each year than a lower rental per week but no empty weeks.
Capital Growth
Of course, with an investment property, it isn't just the rental income that needs to be considered. In the emerging markets, particularly in the east of Europe where former communist bloc countries are beginning to prosper as they jostle for EU membership, city lets are considered an excellent buy for capital growth.
It's often the start of a cheap airline route that opens up an area to property investors, but with cities, that's not always the case. Berlin, for example has been an airline hub for decades, but the recent interest in property there has come from the rebuilding of the former East German Republic areas and the signs of economic recovery from the doldrums caused by the expense of re-unification.
Cultural Differences
There is also an historic and cultural difference in many continental countries with regard to housing. It's often more common for houses to be passed down through the generations, and young families will rent while they wait for the family property to become available. This makes the purchase of a property less usual than in the UK, where we have one of the highest home ownership levels in the world, and in turn creates a ready market of tenants.
Far-Flung Areas
In more remote destinations it's the lure of the capital increases and readily available long-term tenants that entices investors, although restrictions on foreign ownership are often tighter than in the EU. Dubai is in the middle of an unprecedented building boom but warning sounds are beginning to be heard as analysts wonder if it can be sustained. Malaysia is experiencing a boost in living standards as Singapore gets too crowded and expensive, and English, the language of business, is widely spoken. Brazil is being touted as an untapped growth area too.
Spot the Market
Look for development projects to try to predict where capital growth may come next. For example, there was a big spurt in property values in the Spanish city of Valencia when it was announced that they would be hosting the Americas Cup in 2007, and millions of euros would be spent on regeneration projects to ready the city. That boat may now have sailed, but where's the next one coming from?
Underpinning a Profitable Portfolio
The fact that city properties can be lucrative long-term gives them an added bonus. If this is the start of a property portfolio then the mortgage options available are better than for pure holiday properties. This enables you to put less capital down on each purchase, which allows you to buy more properties in the first place.
Secondly, if the capital growth of the property performs as expected, there will be the opportunity, a few years down the line, to re-mortgage and use the release of equity to fund further purchases. As long as the level borrowing is at a level that you are comfortable with, city property could be the investment for you.
You might also like...