Buying Property Near the Coast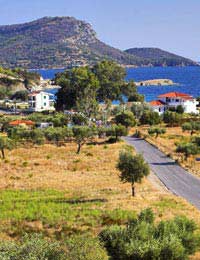 A lot of us are looking for sun sea and sand when it comes to buying property abroad, and why not? If you're thinking of buying a holiday home in another country it's likely to be because the weather is a lot better, so why not enjoy it to the full and get a villa or apartment by the sea?
Expanding World
The coastlines of the world are being developed more and more, and with the expansion of cheap flights now encompassing medium-to-long-haul destinations, the location of that beach has ceased to become a problem. The Caribbean is becoming popular and South Africa, India, Thailand and Malaysia are now joining in.
For a holiday home, particularly with a young family, a home by the coast can be a valuable asset. A villa or apartment on the coast will always be in demand either for yourselves or for other holidaymakers, should you be looking to recover some of your costs by renting it out. Exactly how far it is from the beach will have two cost impacts: firstly, as you get closer to the beach the property will be more expensive to buy, but at the same time, it can be rented out for more.
Get a Complex
Many properties offered to foreign buyers are in holiday complexes. These have significant advantages and, with the exceptions of golfing complexes, are usually only available on the coast. Facilities will be there on your doorstep, with places to eat and shop, swimming pools and child-care on tap, as well as the golden sand and the sea for children to play in. If you are going to let your complex property to others while you're not using it, then check that the facilities will be able to your guests as well. On the other side of this coin, a complex may in fact rent out and manage the apartment on your behalf, for a percentage of the takings.
Beach Access Critical
Even if it's not a holiday home for yourself that you're after, but more for investment purposes, a place by the sea can be a good buy. For short holiday lets in a tourist area, access to the beach is critical to ensuring the lowest number of empty weeks. And if you buy in an area where the sun shines all year round then you can expect to fill the property all year round too. The danger is that your sea view may be interrupted by a new development the following year, so it's important to try and ensure, as far as you can, that your view is protected.
Long Term Vista
For a long term letting investment property, however, it's best to steer clear of the coastal market. If your investment depends on rental income to pay for itself, then city apartments are much more likely to attract professionals who will take on properties for year-long lets, maybe even longer.
The other aspect of long term investment to consider is the expected capital growth of the property. Coastal property is unlikely to appreciate any more than any other property in a given area, unless you believe that you have found an area that is likely to significantly increase in value. Some coastal areas that fit into that category at the moment are Montenegro, said to be like Croatia five years ago, the Cape Verde Islands, where development laws have just been relaxed, and Venezuela, where the Caribbean climate is available for significantly less than the islands themselves.
Others being touted are Mauritius, Belize, Réunion, Brazil, the Seychelles, and Nicaragua. In these areas, and many others that are out there, be warned that the risk is as high as the talked-about returns, so strong nerves and top class research will be required.
More Mature Markets
In more mature and traditional markets for British property buyers, Spain is now a little overheated and sellers of fairly new properties are having difficulties because of the competitions from new developments. Portugal is not so heavily developed but there are few bargains left, but the south of Cyprus is significantly cheaper and is Brit-friendly, having previously been a territory of the Empire. Another Mediterranean location being talked up at the moment is Sardinia, where apartments can be found for £90,000 and villas from £250,000.
The most important thing is to decide exactly what you want from your coastal property, do your research, have a couple of fact-finding visits, then plunge into the waters!
You might also like...