Cheap Flights and Their Affect on Overseas Property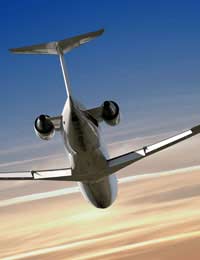 There's no doubt that cheap flights can have a dramatic affect on property prices abroad and that's good news for buyers in the United Kingdom looking for a little place in the sun. But you need to be aware that the effect can also be just as dramatic when the cheap flights disappear, as they sometimes do.
Cheap Flights Push Property Prices Up….
The opening of new routes for cheap flights has been an indicator for serious property investors ever since cheap flights burst onto the market in the mid-1990s. It's well known that the arrival of cheap flights to an area previously hard to get to opens it up for people keen to invest in property abroad. The area around Bergerac, in the Dordogne in France, for example, saw property price increases of 167% between 2001 and 2005 after the introduction of cheap flights.
Another survey in 2006 also showed that property prices within ten miles of airports served by cheap flights are nearly 40% higher than those of property prices served by scheduled airlines alone. It would be unwise to take that without checking for other factors though. It's likely that established airports with scheduled flights would be closer to larger cities and the areas around them would be subject to far more noise and disruption than a small, out of the way airport with one flight a day to Luton.
….But What Happens When Cheap Flights Disappear?
The risk is that the cheap flights may disappear, and then property prices are likely to stop rising as fast, or at worst, fall. It's not unusual for an airline to withdraw a route that it decides is unprofitable. Sometimes, with some of the more bullish airlines providing cheap flights, a route can be withdrawn because of an argument with a regulator or an airport owner too.
Not only that, but in the current economic climate it's not unusual for airlines to go bust. In a five week period in March and April 2008 five airlines went into bankruptcy around the world, although none of them would have particularly affected any property markets popular with UK-based buyers. But then in August 2008 Canadian carrier Zoom, who had been partly credited with fuelling the boom in Canadian ski properties, went bust. There are other airlines travelling to Canada, and of course it's not only Brits buying there, so it remains to be seen what the affect is overall, but the warning signs are there.
Assessing the Risk of Travelling without Cheap Flights
In most guides to buying property abroad, including this one, prospective buyers are encouraged to buy in areas that don't depend completely on cheap flights for holidaymakers travelling out to properties aboard. If a route were to be withdrawn it would take longer, and be more expensive, for you to go and visit your property. But it would be true for would-be visitors travelling to your property as well, which could seriously affect your pocket if you rely on holiday lettings to help with the running costs of your property aboard.
The loss of a route or an airline doesn't necessarily mean disaster though. Going back to the Bergerac example, the airline that had pioneered cheap flights there found itself in financial trouble in 2003 and was taken over by a rival, who chopped the route a few months later. But demand had already been created by a new wave of property owners who wanted cheap flights for themselves and their visitors, so in 2008 there are now cheap flights on offer to Bergerac from ten airports in the UK. These are provided by two airlines, one of them the company that axed the route back in 2003.
So although there is a risk that removal of cheap flights from an area can adversely affect poverty prices, it's important to assess the risk properly as you might decide it's worth it anyway.
You might also like...