Buying in Egypt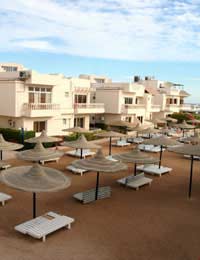 Egypt is a relatively unknown market for foreign property buyers but the government is actively promoting the concept so it will not remain an undiscovered secret for much longer. With recent rises in property and land prices of up to 60% albeit from a low starting point, the early birds are already getting a piece of the worm.
Ancient Tourist Destination
Egypt has long been a tourist destination, probably even from the start of modern tourism as we know it over two hundred years ago, with its wealth of ancient monuments. But the move toward foreign property ownership has required changes to laws as well as marketing.
Sharm el Sheikh
One of the main bases of foreign ownership is Sharm El Sheikh, on the tip of the peninsular that forms the fork of the northern end of the Red Sea, which has long been a popular spot for diving holidays. It's now branching out into mass tourism and a mix of low-to-medium rise hotels and apartment blocks are joining the villa complexes. Prices have doubled in the last two years here and may continue to rise as there is a ten-year freeze on building licenses at the moment. Despite this, there are still many small properties available at less than £30,000, and building height regulations mean that the coastline will never be spoilt by buildings over three stories high.
Red Sea Coast
The western coast of the Red Sea also has a number of beach resorts, many of which are within easy reach of Luxor, the Aswan Dam and the Valley of the Kings. The price of a one-bed apartment on the marina at El Gouna, a purpose built resort town, will cost around £130,000, again double what it was two years ago. This resort is now 40% owned by Europeans and further away from the marina a one-bed apartment can cost as little as £41,000, with three-bed villas from £120,000.
How to Buy
Buying a property is similar to many other areas worldwide, a 10% deposit secures the property provisionally and then the balance is handed over after all the paperwork is complete. Complications do arise, however, because only 10% of property is registered in Egypt and it can take four months to check the status of your home. You should employ a lawyer to check this out, also whether or not there are any loans outstanding on the property, before passing over any money. These issues should however only apply to resale properties, not new-build.
Your lawyer needs to be bilingual; one of the good things about buying in Egypt is that the sales contract is not legally binding unless it is bilingual, which protects both sides. Your lawyer will also make sure that all the relevant taxes are paid out and that the purchase is registered at court, which costs around £500. Land registration charges now cost only 3%; it used to be 12%, the reduction being to encourage registration, which is a legal obligation. It is also worth noting that new developments are likely to be on a 99-year lease rather than freehold, and also that estate agents in Egypt are not regulated, so your own research is vital.
The Down Side
Without wanting to dampen enthusiasm, it is essential to assess the terrorist risk in Egypt. In the Nineties a series of bombings and shootings targeting western tourists caused the near-collapse of the tourist industry, but the carnage was halted when Egyptian security forces broke the groups responsible for most of the attacks. Then after seven years of peace, the attacks started again in 2004 and continued for the next two years. There have been no attacks since a major terrorist group was, once again, infiltrated and rounded up, but they normally begin at the height of the season so time will tell if 2007 will pass uneventfully.
A Spectacular Upside
After that reality check, hope can be taken from the announcement or the ultra-luxurious Serrenia resort, billed as 'the world's most exclusive waterside address' and targeting the 'super-rich'. On the western Red Sea coast, close to the established resort town of Hurghada, this scheme is expected to be completed by 2010 and is designed, with trademark spectacular buildings, by Norman Foster and Partners. Among the 1,000 apartments are five 2,500 square metre 'palaces', every one of which is already sold.
That's the biggest demonstration of confidence in Egyptian tourism that anyone has seen since the time of the Pharaohs!
You might also like...