Buying Property in Morocco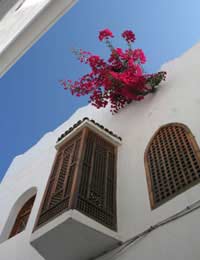 Morocco is just a short hop over the narrow stretch of Mediterranean at the base of Spain but culturally it is a world away. The bustle of the cities and towns where hawkers and fakirs vie for your attention might be what you are after, or perhaps it's the serenity of a peaceful beach retreat. Morocco can offer both.
Morocco was unknown as an international property market until a few years ago when it was swept up in the global property boom. The government has pledged to attract millions more tourists than currently visit the country and are putting the infrastructure and facilities in place to accommodate them. Cheap flights are now available to Fez and Marrakech and there is the added bonus, when attracting UK holidaymakers, of no jet lag, as it's only an hour behind London.
The market breaks down broadly into three groups. The first is new build coastal developments, on the Mediterranean coast to the north. New build apartments start at €80,000 for one-bedroom units.
The second group is similar coastal developments of apartments and villas, but bordering the Atlantic, where properties are currently slightly cheaper. The largest city in Morocco, Casablanca, which was immortalised in the eponymous film, is on this coast and much of the new development is within easy reach of the airport there. Resale properties further down the coast at Agadir are roughly half the price of new build developments on the northern coast, but the tourist market in the area is not as strongly developed so the risk is higher.
The third sector is the larger towns and cities inland, many unchanged since medieval times, where the townhouses, known as riads, are being restored as holiday lets and guest houses and new villas are being built on the outskirts. Marrakech and Fez are in the vanguard of this movement and prices have soared in the past few years to the extent that a restored riad in Marrakech is likely to cost more than €200,000.
Fez is some way behind in prices but also in tourist development, so is a riskier bet for investment, either for capital growth or buy-to-let. Commentators believe that there is still room for impressive capital growth in Marrakech, however, and riads can make very enticing boutique hotels if it's a lifestyle change that you are after.
Be aware that in cities such as Marrakech and Fez, the tourist season is from March to July, as August is simply too hot. If you're going to be marketing mainly to Brits, this means that you'll miss out on revenue during the summer holidays, when United Kingdom holidaymakers are available.
How to Buy
The notaire is a very important figure in the buying process so choosing one is best done straightaway. You are then strongly advised to seek out a lawyer, even though they are not necessarily required to purchase property in Morocco, as the notaire's job is to manage and oversee the buying process, not to give impartial legal advice. Once you have made a verbal offer, after the inevitable haggling, a preliminary contract and a ten percent deposit will secure the purchase, perhaps more for an off-plan property.
Foggy Ownership Problems
As with many emerging markets it's not uncommon to find that there are no title deeds to older properties, particularly if they have been handed down through the generations and are now owned by many different family members, who, incidentally must all agree to the sale. In these cases it can take a very long time to secure correct deeds, but if it's established that there are no deeds, a notaire can create them. Do not buy a property without them, no matter how cheap it is, because you simply will not be able to prove ownership if someone comes along later claiming to own the property. These problems are less likely to occur with new-build or off-plan properties.
Exchange
Once deeds are sorted out, the final contract will be prepared and you have around four weeks before completion to get it translated and assessed by your lawyer. Once you are satisfied the final contract is signed in front of the notaire, although you can give power of attorney to someone else if you cannot be there in person.
The incidental costs of buying property in Morocco are not huge. Estate agents' fees area around 2.5% as is registration tax, and stamp duty is 1%. There is a range of smaller fixed cost administration fees that together should less than 4000 MAD (Moroccan dirhams), which is currently around £200-250. There's no inheritance tax but 20% capital gains tax (CGT) will be levied when you sell, unless you use the house as your principal residence for ten years.
Intense Sensory Assault
The sights, sounds and smells of the spice markets will either captivate you or drive you mad but there's no denying the fascination of Morocco as a tourist destination, even if it is slightly off the beaten track at the moment. If the infrastructure improvements and internal investment continue the way they have done since 2000 then there is every chance that a handsome capital gain can be made in this truly sensational country.
You might also like...