Buying Property in South Africa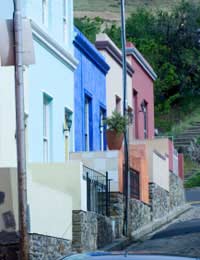 After decades of isolation and the near-anarchy following the inevitable handing back of power to the indigenous people of South Africa the country is beginning to get back on its feet and there's no better sign of that than a burgeoning international property market.
Varied Property on Offer
As with many other emerging markets there is a strict divide between city buy-to-let properties and tourism based opportunities. But although South Africa has two stunning coastlines, on the Atlantic and Indian oceans, it also has tourist attractions inland, in the wine-growing regions and big game country.
South Africa has a couple of benefits as far as tourism from the UK is concerned. Although it's a half a day's flight, it can be done overnight and there's only a two or three hour time difference. The second is that driving is on the left, so it's not so traumatic hiring a car to get about.
Economic and Political Stability Emerging
Stability is slowly coming to South Africa, with inflation now down to around 5%, GDP growth around the same level, the rand stabilising and unemployment coming down. House prices have responded, with some resorts on the east coast reporting 40% per year, although that was from a very low initial base and it's slowing now. But some developers reckon that annual increases of 20% are still achievable if you buy in the right areas (by which, of course, they usually mean theirs!).
Other dissenting voices point out that rents are very low compared to other countries, both for commercial and private property, and that property prices are well out of the reach of locals, so if the supply of foreigners buying properties runs out, then the bubble could burst. This only goes to show that it's essential to do your own research before making any significant investment, and this one is no exception.
Sparkling Coast
On the north east coast near Durban an area surrounding the town of Umhlanga is seeing a boom in coastal development with shops, restaurants and golf courses going in along with the villas and apartments, and a new airport is on the way. Many of these also offer plots where buyers can have their house constructed according to their specification; they range from around £80,000 to £220,000. Ready built homes on nearby developments start at £135,000 and there are schemes that deliver guaranteed rental at 8% for an initial period.
No Gazumping
One of the joys for buyers from England and Wales, when purchasing in South Africa, is the lack of gazumping. Another is that, unlike many other emerging property markets, there is an excellent and comprehensive land registration system in place. Once a price is agreed, both parties sign a contract that is immediately legally binding, and neither party can withdraw without paying penalties. The strength of this agreement means that deposits are often unnecessary.
The cost of buying usually works out to be roughly that same as in the UK. Property transfer fees are between 5-8% and conveyancing fees are 1-2%. Legal fees can be quite high so it's worth getting a quote up front. Although there are no restrictions on the ownership of property, you must declare any money brought into the country to the SA Reserve Bank.
Pick a Piece of Paradise
South Africa is still in a process of transition but it has so much to offer that it has to be a compelling place to buy, as long as you pick the right spot. With the World Cup coming in 2010, building on the success of the Rugby World Cup in 1995, there will be further infrastructure investments that will enhance South Africa's reputation as a worthy property investment spot.
You might also like...