Buying Property in Mexico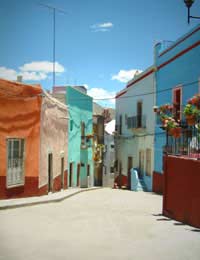 Mexico is often considered a poor cousin of the USA and while it is true that the standard of living is not consistently as good as America, it is also a lot cheaper, and that means there's bargains to be had. The cost of living is about half that of the US or the UK, and with salaries and labour low this makes restoration or new-build particularly attractive.
Bridge Between the Americas
Linking the USA to Central America, both geographically and politically, Mexico is more stable than the rest of Central and South America, being the only Latin American member of OECD. It has an immense coastline, largely due to the long, thin Baja California peninsular, which drops down the west coast from the US border for almost a third of the length of the country. Although this means that tourism is inevitably focused on the coast, with famous resorts such as Acapulco and Cancun, further inland the hills and mountains contain picturesque villages, often former mining communities, that are now havens for artists and back-packers.
The bulk of the market for foreign investors is in tourism, although there is interest in city apartments too. A lot of the current buying is in villa and apartment complexes, on both coasts of Baja California and either side of the Mexican mainland, on the Atlantic coast and the Caribbean. The ubiquitous golf resorts are springing up too, many of them close to the US border near Tijuana to offer Americans property and leisure at lower prices than at home.
Restore and Build Options
Restorations are popular for those seeking a lifestyle option rather than investment. By buying a near derelict house it is possible to make the property that you always dreamed of, and some of the houses on offer have delightful colonial architecture that can be made into stunning homes. Self-build is popular too, with many plots on offer with a turnkey house built into the equation; the traditional 'off-plan' method of buying that is widely seen in Europe.
Take the Long View
With such wide variety of property options, location has to be the key to making the right purchase. You can expect to pay between £75,000 and £150,000 for a two-bedroom apartment in a good area, and a three-bed house will be from £180,000 upward. If your property needs to work for its keep, look closely at rental yields, some popular tourist areas can offer 15% on occupancy rates of a little of a third of the year, so a slightly more expensive property in an easier to rent location may yield a better dividend in the long run.
The Buying Process
The key person in the buying process is the notary, who is a public official. Being independent, it is in his best interests to ensure that the paperwork is correct and legal on both sides of the transaction. He or she will set out the preliminary agreement, after you have agreed a price, called a
Convenio
which will detail every single aspect of the sale. A deposit of around 5-10% will be paid at this point too.
Although there are few restrictions on foreigners owning property or land, at this point, as a foreigner, you will have to apply for permission from the Foreign Secretary to purchase the land, although this is a formality. One of the checks that the notary will perform is to make sure that the land being sold is not ejido or common land. No one can own this type of land unless they have the agreement of the whole community, so it's best to completely avoid it.
Completion
Once all checks have been completed and assuming no surprises, the completion occurs with the balance of the price being handed over and the notary ensuring that all relevant taxes and charges are paid. The transfer tax is 2-6%, notary fees 2-3%, registry tax 1.3%, and there is no VAT on residential property. There may, however, be an appraisal tax, as the tax officials occasionally review transaction prices to ensure no sales have gone through at undervalued prices in order to avoid tax. If they decide that this has happened, you may be liable for more tax to make up the shortfall, but this is a very open process with strict rules and regulations, as is house purchase in general, so as long as you follow the legal process, there should be no problems.
Whole Host of Options
Mexico may not seem the obvious choice to buyers from the United Kingdom but we are beginning to take notice of it more and more these days. With an improving infrastructure and low prices. Those miles and miles of idyllic beach are getting more and more accessible every day.
You might also like...