Buying Property in Australia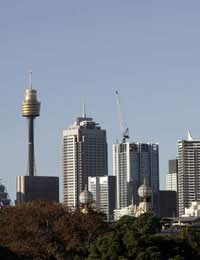 Australia has been winning hearts and minds in the United Kingdom for the best part of fifty years now. After the Second World War inducements were given to Brits to encourage them to come out and help the country grow and when 'Neighbours' and 'Home and Away' took off, applications to the Oz embassy in London multiplied by a factor of ten. With the vast majority of the population living within a hundred miles of the coast, and an excellent year-round climate, it's no surprise that it's popular with families looking for a relaxed but active way of life.
Long Haul Destination
The sheer distance away from the United Kingdom, with flights taking the best part of a day, means that Australia isn't going to be a holiday home market for Brits in the way that France and Spain can be. Investors will either buy-to-letters who may never see the property, or emigrating, perhaps to retire. But for those buy-to-let investors the Australian government have put a spanner in the works; people who aren't nationals and don't have residency permits can't buy property; they can only buy land or off-plan properties.
Permits
They also usually have to apply for a permit from the government Foreign Investment Review Board (FIRB) and although that isn't likely to be refused, there are conditions attached. One condition is that construction begins within a year of the approval being granted, and if you have bought land, the chances of getting all the permissions through, appointing architects and lining builders up to start the build in that time if you're not 'on the ground' is minimal. This effectively limits non-residents to new-build or off-plan, usually apartments or villa complexes.
For retirees and emigrants, the choices are very different. Once granted, residency will give you the ability to buy anything you can afford, and the choice is likely to be driven by the need to be close to work, amenities and perhaps other relatives who have previously emigrated. The standard of housing is high and prices very good compared to the United Kingdom, with larger room sizes, garages the norm and more space around the houses.
Buying Process
The buying process is significantly different. Haggling is an expected part of the process, so don't let high prices put you off. Once a price is agreed, contracts are drawn up and exchanged virtually immediately, with a cooling off period of between 5 to 10 days. After that you are committed, although the contract will allow for the usual get-out clauses, such as an inability to raise finance or serious problems showing up on a survey.
Completion will usually occur within six weeks of exchange, giving your solicitor time to run the usual checks on the property and paperwork. Be aware that FIRB approval is given per property, not to you personally, so it's worth making sure the house is the right one for you, moving will mean having to reapply once more.
Extras will normally come to around 5% of the purchase price in Australia. The land registry charges vary from state to state and in some states the buyer must pay for compulsory pest and termite surveys.
Where to Buy?
Australian cities have seen some impressive growth in recent years, prompted by infrastructure improvements for events such as the Olympics and the Commonwealth Games. But even Perth, on the west coast thousands of miles away from the south-eastern conurbations of Melbourne, Sydney, Adelaide and Brisbane, has seen growth, building on its reputation as a city offering excellent quality of life.
Grasp the Nettle
Australia is renowned as a land of opportunity, with many emigrants opening successful tourism businesses. The laid-back nature of the country translates into a no-nonsense attitude when it comes to business dealings, yet it's easy to get away from business and relax, by the sea if you choose. If that sounds like the life for you, then start investigating the Australian property market today.
You might also like...