What to Consider if you are Retiring Abroad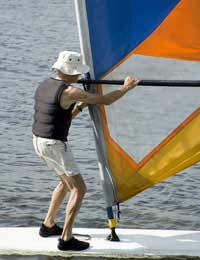 The lure of retiring to a place in the sun is very attractive but is it the right choice for you? It's a pretty big area but we take you through the pros and cons to help you make your mind up. This is not really about finance, pensions and taxes (see our separate article about all of that) but about you, your family and what you want out of your retirement.
Family Ties
Consider first the separation from your family. Everyone thinks about relaxing on beautiful sunny weekends, with the children and grandchildren running in and out of a large house and round the garden, while the son-in-laws take over the barbecue. But will the novelty wear off, or, on the other side of the coin, will the distance put them off? Will your property be big enough to cope with all the guests without becoming a millstone? Will contacting your family and friends by telephone or email be enough to keep in touch with them and support them when they need it, or vice versa?
Spending Your Time
The second part of this question is about your aims from retirement. If you want to have better weather and a better standard of living for less money, then living abroad can deliver that. If your hobby is gardening, then you may still be able to do that, although you'll have to learn what grows well in your new home. Similarly if you want to satisfy your artistic leanings in your stress free later years, or improve your golf or tennis, then that can work wonderfully well in another country.
But what if your hobby is working on classic cars and going to the owners' club meetings? Or amateur dramatics, music or singing? Will those options be available to you in your adopted country, and will your language skills enable you to participate fully?
Integration
The third big question is whether you are looking to integrate with the local people and culture, and if so, whether you think you can do it, because it's not easy. In a country where English is the common language, such as Australia, Canada or the USA, it can be a lot easier. If you have to learn a new language, it's important to understand that you will need to study at it. You will not be able to pick it up just by wandering the markets and bars, you will have to buy books and tapes, set aside learning time, join conversation groups and maybe even get a local tutor.
At the other end of the spectrum, there are some countries, areas of Spain for example, where it is not necessary to integrate if you don't want to. As there is a lively ex-pat community, businesses have sprung up to service that community, in English. This makes it perfectly possible simply to enjoy the sun, sea and golf without the pressure of trying to integrate, if that's what you're looking for.
Holidays are Different
Finally, it is often said in television programs and articles on living abroad that it is NOT the same as being on holiday! The weather may change in the autumn and winter and if your chosen destination is a tourist hot spot, many of the amenities and local restaurants may close down until the late spring.
Try it for Size
Perhaps the best thing to do is to rent a property for a year on the area where you are thinking of moving to. Rental is obviously sunk money, but you can get good deals on annual rents and it could be a lot cheaper than selling up in the UK, moving everything abroad and then having to come back three years later, when you discover that it's not what you want after all.
Think it Through
Don't let any of this put you off though, careful consideration is simply the key to making sure the decision is the right one for you. If possible, talk to other people who have done it. There are more than half-a-million Britons now living out their retirement abroad, with that number predicted to rise to well over a million in the next fifteen years and there's no reason why you shouldn't be one of them.
You might also like...