Buying Property in Goa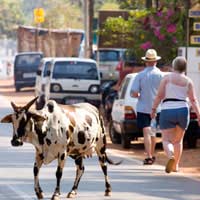 The state of Goa on the north-western coast of India has been a tourist hotspot for a number of decades now. A former Portuguese colony, its distinctive architecture made it stand out from the surrounding parts of India and it was initially popular with the hippy and backpacker sets. Big business saw the potential and now it's firmly established on the package tour map and one of the cheapest places in Asia to buy coastal resort property. But be ready to jump through a few hoops if you want to become one of the international property investors owning in this beautiful area.
Slowly Embracing Globalisation
India has been slowly opening up to foreign investment since the early Nineties, realising that it has the opportunity and resources to become one of the world's largest single-state economies. This opening up of legislation has not yet trickled down to foreign ownership of property.
Hurdles to Clear
The main problem is that, unless you are of Indian origin, in order to register property you have to be resident in India for 183 consecutive days and then show that you intend to live in India indefinitely. How you are expected to do that, nobody quite knows. One of the ways around this is to obtain property on a five-year renewable lease so that you own it, but it is registered in the leaseholders name. It used to be possible to buy through a shell company, as with Thailand, but that loophole is being closed.
A straightforward purchase will work well for people who are retiring and want to spend the winter in Goa and the summer in England, but those looking to rent out for most of the year will have to use the lease method.
Rock Bottom Prices!
Prices are temptingly low though. Off plan 1-bed apartments in complexes with shared pools are as little as £18,000 and a four-bed house five minutes walk from the beach will set you back £70,000. With rental returns of between 4 and 8% these are investments that should pay for themselves and there is a good chance of a decent capital gain into the bargain.
Patience Required For Buying
Buying is straightforward but can take a long time as there is a lot of bureaucracy and thinks get done very slowly. Unless you are buying off-plan or new-build, title deeds could be a problem. It can take a long time for the solicitor to track down all the owners of a property, as they all have to agree for it to move forward.
Deposits are usually 10-20% (more for off-plan) and an agreement of sale is drawn up. After lawyers have conducted due diligence checks, the title deeds are handed over and conveyancing begins. Once that is finished, the deeds are registered, the rest of the money is handed over and stamp duty and other charges are paid.
Only For the Intrepid
There are signs of disquiet in Goa though. The majority of buyers in Goa are non-resident-Indians or persons of Indian Origin (NRI's and PIO's) and weekenders from Mumbai and other cities, but there is a significant number of northern Europeans buying as well. There are reckoned to be about 5,000 Brits in Northern Goa, for example.
A backlash is beginning to build up, partly against foreign immigration but more about the environmental and social impact of the constant building all along the Goan coast. It would be wise to take a few trips out to the area to get a feel for the situation before taking the plunge. Those who have done it are very happy though.
You might also like...