Buying in Dubai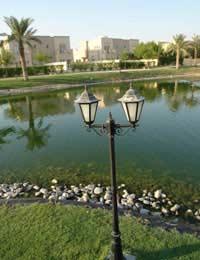 Many of us in the United Kingdom simply hadn't heard of Dubai in a tourist context ten years ago. But since the late Seventies the Emirate which is the second biggest of the constituent states of the United Arab Emirates (UAE), has been aware that they needed to develop other economies to prepare for the day that the oil runs out, and now it seems that not a week passes without an announcement of yet another outrageously glamorous development such as Palm Jumeirah (Palm Island), the World, the Burj Dubai (Dubai Tower) with the world's tallest indoor atrium or the dramatic Burj al-Arab (the Arabian Tower) built in the shape of a huge sail.
Legal Changes
But if this sounds all a bit too grand for you, there are all sorts of developments going on as Dubai puts in the infrastructure to make its new tourist economy sustainable. The gates were truly opened in 2002 when Dubai's ruling council changed their laws to allow foreign ownership of property (although not land), and since then property prices have risen by 25% each year, although they still remain low compared to UK prices.
Then in 2006 laws were changed once more to create the concept of freehold, and allow foreign ownership of freehold land, but only in certain designated areas, so there are still leasehold developments around.
Something for You Too
There are affordable apartments and villas going into developments in the Jumeriah area with studio apartments from as low as £40,000 although if you were looking to make a short-term profit at this level, you would need to be aware that when you come to sell you will be competing with all the new developments still going on around you. Two-bedroom apartments currently go from around £130,000. These developments are usually gated communities that include leisure facilities such as gyms, swimming pools, beauty parlours, tennis courts and so on. Outside Jumeriah the new Dubai Marina and Arabian Ranches developments are taking shape.
Flipping
Many UK investors have made excellent gains by buying off-plan early in the life of a development and then selling that option on before the property is compete, a process known as 'flipping'. There is a risk that the predicted capital gains aren't realised, of course, and if you have borrowed heavily to make the initial purchase, you can be saddled with a big mortgage that you had intended to pay off when your boat came in, so it's not a process for the one-time investor. There are also rumbles in the financial media that the building boom is unsustainable at its current rate and there may be a 'softening' of prices in the medium term future.
Families Catered For
The vast majority of the population live in Dubai City, for outside there is little but bare mountain ranges and desert. The areas where tourist developments are being built are all within easy reach of both the beaches and the city centre amenities. Those amenities do not just include shopping; although Dubai does now boast some of the world's best shopping centres, they have also thought of families and have constructed a number of theme parks to entertain. The Wild Wadi is a water theme park reputedly with the highest rides outside the USA, and Wonderland is a family fun park with attractions to suit all ages. Trips out into the desert in 4x4's are also popular, and other attractions are sure to follow.
The Purchase Process
There is currently no formal purchase process for property in Dubai, although it is expected that one will be put in place before too long. So the only paperwork involved is a sales agreement, which once signed, is legally binding. It goes without saying that a bilingual legal expert is vital to protect your interests as there are no cooling off periods.
What Extra Costs?!
The good news about extra costs such as stamp duty, property transfer taxes, capital gains taxes and tax on earned income from property is: none of them exist! Because Dubai earns enough money from oil, the free trade port and tourism, there is simply no need to raise money from taxes. The only cost apart from fees for agents and lawyers is a land registry tax of around 1.5%. This may change in the future, but there are no concrete signs of this as yet, and you will, of course, have to declare rental income or capital gains to the Inland Revenue unless you emigrate to Dubai.
Year Round Sun
The weather in Dubai is almost always hot and it's this year round brilliance that makes it such a superb spot for rental income and 30 to 40 UK residents are reported to be buying property each month. Long weekend trips are also not completely out of the question as the flight time is 6 to 7 hours and this may come down a little in the future when Emirates planes can fly over Iraq again! It may have taken us a while to understand the attractions of Dubai but they are now there for all to see – why not put your mark on a property there for yourself?
You might also like...