Buying Property in Canada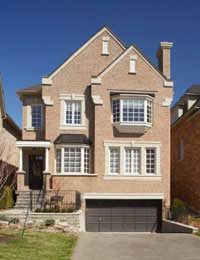 Canada is often considered the USA's poor cousin but it has plenty to offer to the Briton buying abroad. The weather is generally consistent and you get four distinct seasons more extreme than in the UK, so although you'll need the snow chains and fleeces for the winter, you can also bank on a good hot summer.
City or Ski
Although Canada has almost every type of property available, the majority of foreign buying is either city apartments or ski accommodation. With the exception of skiing holidays, cheap flights and holidays haven't really taken off between the UK and Canada but the signs are there and it could all change over the next few years. This means that a holiday home of a non-skiing kind, like a cabin on a lake, a remote farm to restore, or a golf complex villa, would be a bit of a gamble until those cheap flights start landing.
Buy-to-Let in the Cities
The city apartments are all about buy-to-let with long-term, preferably professional, tenants being sought. Both the major cities in the Ontario province, Toronto and Ottawa (Canada's capital) offer opportunities for buy-to-let that are advertised in the UK press, along with nearby Montreal, and Vancouver on the east coast. The market is one of steady growth rather than spectacular gains, but there is a steady influx of professional tenants as Canada's popularity for immigration and retirement increases. Canada's growing reputation as a safe and politically neutral country is only likely to enhance this.
Ski Down, Values Going Up
Ski apartments are growing in popularity as winter sports expand. Canada has a wealth of mountain ranges only just beginning to be tapped and many of the resorts are within easy reach of the major cities, meaning that transfers from the airports aren't a chore. Whistler is one of the most famous Canadian ski resorts, is less than eighty miles from Vancouver, and is buzzing with activity in preparation for the 2010 Winter Olympics.
Ownership Basics
There are very few restrictions on owning land or property in Canada, just some limits on acreages in a few provinces, so unless you're immigrating to farm in Canada, this shouldn't be a concern.
If you are getting a mortgage in Canada, you will probably need a deposit of at least 25%, maybe even 35% for a non-resident. One of the good things is that pre-approval is common, so when you are viewing you can prove to the owner or agent that you have the funds and can be considered a serious buyer. Also the interest that you are offered at time of that pre-approval is frozen for three months, regardless of whether the underlying rate changes during that time.
It is common for there to be two agents involved in a transaction, one acting for the seller and one for the buyer. Commissions are negotiable, usually between 3 to 7 per cent, often 7% on the first CA$100,000 and 3% on the rest, but these are paid by the vendor, not the buyer.
Buying Process
Once you've found your property a verbal deal must be confirmed in writing, and once the buyer has signed is it becomes legally binding. This document must also list all the items that are included in the price and any exceptions to the deal, for example major problems spotted during the building inspection, or a failure to obtain the necessary finance.
A deposit is paid into a trust account while your lawyer or a notary public prepares all the documentation and registration formalities and the mortgage company, if applicable, processes the application. Once that is all done, the transaction can be completed when the balance of the purchase price comes through.
Extra Expenses
Property Transfer Taxes vary between 0, 5 and 2% of the purchase price, depending on the price and the location. Goods Sales Tax (GST), the North American version of VAT, is 6%, but is only applicable to new builds. This will be build into the selling price and in some circumstances part of it can be refunded. Lawyers fees are typically CA$500-800, appraisal fees for a mortgage normally CA$150-250, and a full survey, if necessary, will depend on the nature and location of the home. Canada is a very serene country full of natural beauty and if you enjoy outdoor pursuits, it's all there on your doorstep.
You might also like...